Plage Privée
The innovative lounge for sunbathing.
The Île Flottant model is designed to offer you unforgettable moments at the sea, at the lake or in the pool and in all locations close to the water. For the first time, Plage Privée combines an inflatable lounge with an electric motor to transform it into a comfortable and innovative boat, able to transform a holiday into something unique and extraordinary.
Design, innovation and precious materials. Île Fottant is designed combined comfort with luxury, for new experiences and emotions. You can tan, explore, escape, amaze and have fun on the water, but above all, immerse yourself in another world, where you can listen the silence, be caressed by the wind and deeply relaxed lulled by the waves.
Two versions: Simple and Luxury
The Île Flottant model is available in simple and luxury versions with accessories.
Simple Version
White Inflatable lounge.
Luxury version
White inflatable lounge equipped with a customizable waterproof cover and extra accesories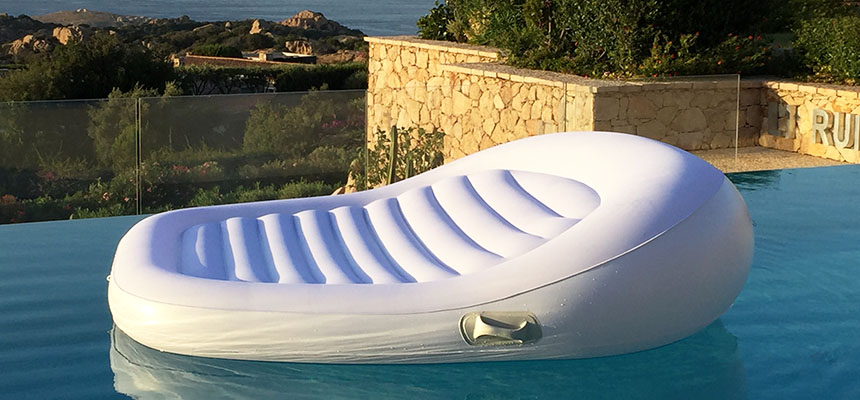 SIMPLE VERSION – ACCESSORIES INCLUDED
Air Pump
Rope
Anchor
Manual
LUXURY VERSION – EXTRA ACCESSORIES
Waterproof Luxury Cover (white, light grey, light brown)
Large bag for objects and canopy
Small bag
Electric motor
Coordinated canopy
Coordinate cushions
Transport bag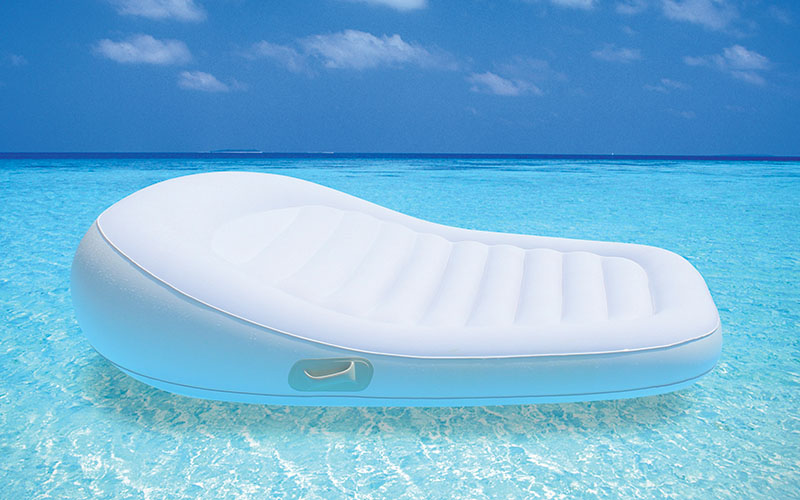 cm 239×227 – suitable for 4 people– weight 11,4 Kg.
The inflatable lounge is made of ultra-resistant white PVC. The flocked surface gives the lounge a velvety touch for greater comfort on the skin. It is equipped with two air chambers and two safety valves and two practical design handles.
The cover is made with a selection of precious waterproof Italian fabrics. It is available in white, sand, light gray. Customization with logos on request. Thanks to two releasable hinges, it is removable to be washed when needed. The side part is made with an elegant waterproof fabric where there are all the hooking predisposition of:
ACCESSORIES APPLICABLE TO THE COVER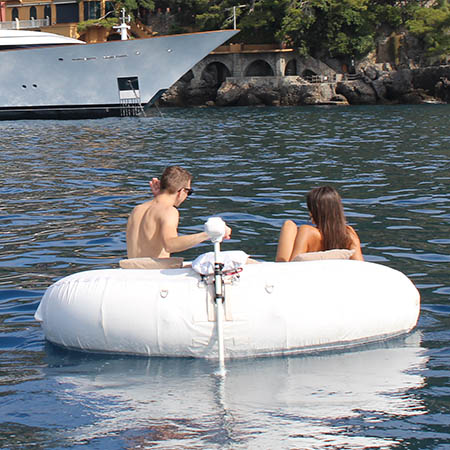 ELECTRIC MOTOR
The electric motor is combined with the inflatable lounge thanks to the external cover where the hooks for the engine support bracket are present. Are included:
1 supplied battery
1 battery charger
double drift
CANOPY
On the cover there are the predispositions for canopt terminals The fabric is always in color coordinated with the cover.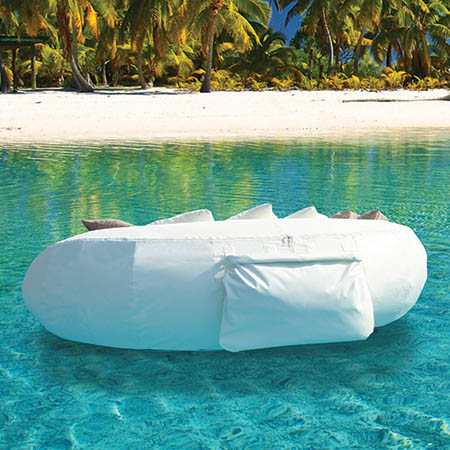 Plage Privée Srl S.
Registered Office: Via A. Massena 103
10128 Turin Italy | VAT n. 11625300014